Bee Gees fans remember Robin Gibb as 'total gentleman'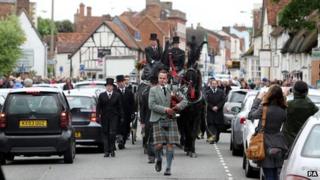 The overwhelming message from those who turned out on the streets of Thame to say a final goodbye to Robin Gibb was that he was a kind, down-to-earth man.
Many of the hundreds of people who lined the streets of his Oxfordshire home town had experienced his generous spirit first-hand.
Richard Jones, 62, from Birmingham, met Gibb while the singer was making a documentary about Bomber Command.
Mr Jones described him as a "total gentleman".
He added: "We both had a ride in a Lancaster and then he spoke to me for 15 to 20 minutes. He didn't try to fob me off.
"His songs have been the soundtrack to my life."
Bee Gees fan Sonia Chittenden, from Hartley Wintney, Hampshire, first met Gibb as a 16-year-old, when she mobbed him on stage at the Royal Albert Hall.
"He was the kindest man, the most wonderful man I've ever met," she said.
'Always approachable'
Mrs Chittenden recalled how Gibb lacked any "airs or graces" that normally accompany super stardom and how he would frequently stop to speak to her as she followed him around the country to see his UK concerts.
"One time we were waiting outside a recording studio in London and when he came out he said: 'If you beat me back to my house I'll make you a cup of tea'," she recalled.
"He lived in Montpelier Square at the time and he was in a Mercedes and we had to use public transport. We beat him and he said: 'A bet's a bet', and invited us in for tea."
Dr Bala Moddia, from Thame, said that Gibb had lived in the town for 30 years and was "very much a local man".
He added: "He was never pompous and he was often seen in the local bookshop, he was an avid reader and the locals knew him as just one of the villagers."
Moira Harfield, 57, from Winchester, has loved the Bee Gees from the age of 12, has seen them perform almost 30 times and was recently in Miami for Barry Gibb's first solo performance.
"He (Robin Gibb) was always approachable, they always had a lot of time for their fans," she said.
As a pair of red kites, so evocative of this area of Oxfordshire, flew in the wind above Gibb's mansion, the bells of the church opposite started to ring.
A lone piper led the cortege as Gibb's glass-sided carriage began its circular route through the town, allowing his friends and fans one last chance to say their farewell to a much-loved musical legend.