St John's College skeletons 'may belong to Viking raiders'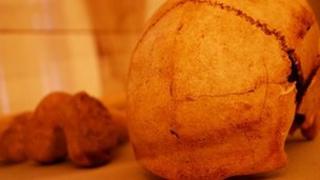 New research on bones discovered in the grounds of an Oxford college has shown they could be from Vikings rather than massacred Danes as previously thought.
The 37 skeletons were found in a burial site at St John's College in 2008.
It was originally thought the bones belonged to locals, originally of Danish descent, who had been killed in the 1002 St Brice's Day Massacre.
However, chemical analysis showed they had eaten a vast amount of seafood, suggesting they may have been raiders.
The St Brice's Day Massacre took place on the orders of King Ethelred the Unready when he demanded the killing of all Danes living in England.
The skeletons, found in the ditch of a previously unknown Neolithic henge monument, are thought to belong to mostly men aged between 16 and 25 who archaeologists said were "robust" and taller than an average man of the time.
Knife wounds
The researchers said they had now discovered the skeletons also had evidence of older scars, which could have been inflicted in previous battles, and the bones were similar in chemical make-up to Viking raiders found dismembered in a burial pit at the Weymouth Ridgeway in Dorset.
Professor Mark Pollard, the lead author of the research, said: "It is possible that the grisly remains at St John's College are the outcome of the documented massacre at St Frideswide's Church in AD 1002.
"Evidence of knife wounds and the burning of the bodies are consistent with the story of the burning of the church.
"However, following the chemical analysis of the teeth and bones, we are presented with an alternative interpretation - that they could have been a group of professional warriors, rather than a group of residents of Danish origin, who were later rounded up and massacred."