Apology after Wolvercote Lock houseboaters' bins left unemptied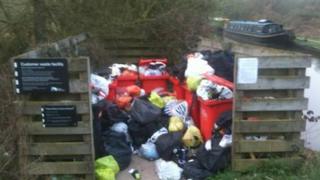 A rubbish contractor has apologised to boaters on a canal in Oxfordshire for not emptying their bins since January.
There are eight bins by bridge 234 near to Wolvercote Lock on the Oxford Canal serving about 50 houseboats.
British Waterways, which is responsible for the site, says it subcontracted rubbish collection there to waste firm Biffa.
It said there had been problems accessing the site and collections would start again in the next few days.
Biffa said it had asked Oxford City Council to empty the bins on its behalf, but problems accessing the site meant they were not being emptied.
Ian Trinder, who lives on a narrowboat nearby, told BBC Oxford rubbish kept piling up and he and his neighbours were fed up of with the smells and sight of it.
He said: "It started in January when the bins situation just kind of spiralled out of control.
"We had no collections from the actual bins themselves and bags were just gradually building up around them. It just kept on building and building.
"We've made lots and lots of contact with British Waterways and occasionally we do get some collections of the bags of rubbish around the bins.
"But we still haven't had the actual bins themselves emptied since January."
'Potential health hazard'
Corrie Waite, who also lives on a boat on the canal, said: "It's been absolutely appalling.
"The bin bags have actually piled up higher than the bins themselves.
"I think it's also posing a potential health hazard - it will attract vermin."
In a statement, Biffa said: "Bins at the site, which is owned and managed by British Waterways, had previously been emptied by Oxford City Council on Biffa's behalf.
"But problems accessing the site meant they were not being emptied.
"Biffa has now taken on a new contractor and we expect the bins to be emptied in the next few days.
"We regret any inconvenience which has been caused by this situation but are confident that it has now been resolved."
Oxford City Council said the bins at Wolvercote Lock were the responsibility of Biffa, and the authority had only been assisting them when rubbish built up.