Golf club beheading man Jonathan Limani jailed for life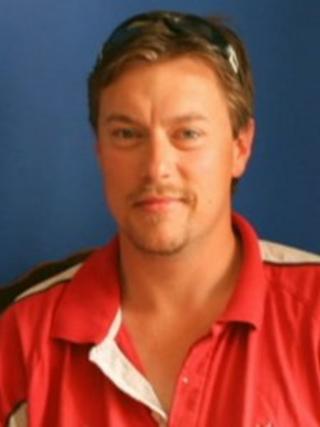 A man who beheaded a restaurant manager at a golf club has been jailed for life.
The body of Christopher Varian, 32, from Aylesbury, Buckinghamshire, was discovered by colleagues at The Oxfordshire in Thame in August 2010.
Jonathan Limani, 34, formerly of Rycote Lane, Thame, pleaded guilty to manslaughter with diminished responsibility at Oxford Crown Court.
Limani, a waiter at the hotel, was told he would serve at least 19 years.
Judge Anthony King said Limani, who is currently at Broadmoor Hospital, may never be released.
The court heard how staff had found the killer sitting near Mr Varian's decapitated body after attacking him with a knife.
'Total shock'
Limani was said to have a lengthy history of mental ill health and paranoid schizophrenia.
He also had a criminal conviction for supplying heroin in Switzerland.
Limani, an Albanian with a Swedish passport, had previously denied all charges when he appeared in court, last November.
The victim's father Nigel Varian, who runs a bed and breakfast with wife Sue in France, told the BBC about the day the couple learnt of their son's death.
"It was a terrible, terrible day, because we were on our way over to our other son's wedding," he said.
"That Chris had been killed by this guy who worked for him, and that he was beheaded at the scene, was just impossible to get to grips with.
"It was just after lunchtime and when a break came up Chris went out to the staff smoking area to take a cigarette and while he was there this man Limani, who was a server, followed him out there and assaulted him with a knife.
"Chris didn't appear to have time to even cry out.
"When he was on the ground Limani then proceeded to decapitate him in the most gruesome manner.
"It was just a total shock to us when we heard this. This is probably the most shocking aspect of the whole case."
Mr Varian said they still thought about their son almost all the time.
Mrs Varian said: "It's still hard to come to terms with his loss and the horrendous manner in which he died.
"It's left me with a bed and breakfast business that I no longer want to be in. My heart's gone out of hospitality.
"We are now trying to sell and I don't know where we will go from here except that we want to be with our family and keep strong together."
Det Ch Insp Steve Tolmie, of Thames Valley Police's Major Crimes Unit, said it was one of the most violent crimes he had seen in a 30-year career.
"Any murder investigation is by its very nature violent and traumatic for the family," he said.
"This one was at the very high end of the scale and was certainly brutal and savage."
'Dreadful crime'
In an earlier statement the Varian family had questioned how Limani came to be living and working in the UK and said they thought there had been "a catalogue of errors".
Catherine Bearder, Liberal Democrat MEP for South East England, said: "This is a dreadful crime but it's very difficult to see how that could have been prevented.
"It's always easier after the fact.
"I'm working with my colleagues across Europe to increase cross-border co-operation with police forces."
Det Ch Insp Tolmie said Limani applied for dual nationality when he was in Sweden.
"Because that was in place he then managed to enter the country, which he did legitimately.
"He didn't disclose the fact that he had previous convictions so he therefore managed to come in and find employment at The Oxfordshire hotel."
In a statement, The Oxfordshire said staff were glad the court had reached a verdict.
"Christopher was a much-loved member of staff and is greatly missed by all of us," it said.
"Our thoughts remain with his family and friends."