London 2012: Oxfordshire Olympic torch route revealed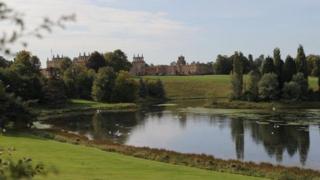 Blenheim Palace and an evening celebration in Oxford are among the highlights of the Oxfordshire part of the Olympic torch relay.
The Olympic flame will arrive in the UK on 18 May and will spend two days in the county on 9 and 10 July.
It will first travel to Waddesdon, then Bicester and leave via boat across the river at Henley-on-Thames.
The Monday evening celebration in Oxford's South Park will be a free public event.
On the 70-day journey across the UK the flame will be carried by 8,000 torchbearers in relay and visit more than 1,000 cities, towns and villages.
Sir Roger Bannister, who was the first man to run a sub-four-minute mile, will attend an event at the Iffley Road Stadium in Oxford where he broke the record.
He said: "I think it's wonderful that it is coming to Oxford. I'm very glad that it is coming to the running track and I shall be there celebrating it with very many other people.
"The relay can't go through every city in the country so Oxford has been selected for this particular honour, we're proud of it and I think we should celebrate it with all the joy we have."
While in the city it will also spend some time at the BMW plant where the car manufacturer builds the Mini.
'So thrilled'
An average of 115 torchbearers a day will carry the Olympic flame during its 8,000-mile journey around the UK before it arrives at the Olympic Stadium on 27 July.
Keith Jansz, 50, from Finmere has been chosen to carry the torch near Stoke Mandeville Hospital.
"I'm so thrilled, it's a tremendous honour," he said.
He was treated at the hospital after being paralysed in a car accident in 1995. He will carry the flame in a special attachment to his wheelchair.
Mr Jansz trained to be a mouth artist as part of his recuperation and was nominated for the relay by friends for his charity fundraising work.
Maths teacher Susan James, from Carteron, has also been selected to be a torchbearer.
She was nominated by her husband because of the 30 years she has dedicated to the Save The Children charity.
The amateur dramatic society she established 19 years ago has raised more than £50,000 for the charity by staging yearly pantomimes.
She will be carrying the torch in Abingdon.
Mrs James, who is currently undergoing radiotherapy treatment for breast cancer, said it was thrilling to be involved and was a real privilege.
She added: "I hope they give me a tracksuit with a hat because I don't have any hair at the moment."