Brooke House Sixth Form College replicates Oxford study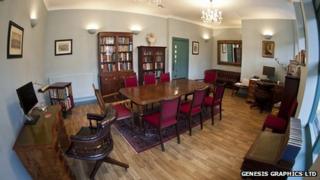 A state-run sixth-form college in London has replicated an Oxford professor's study on its premises.
Brooke House Sixth Form College (BSix) in Hackney spent £10,000 on The Red Room which was modelled on the colours of Pembroke College, Oxford.
Antiques bought at auctions complete a look designed to prevent students being intimidated at university interviews.
BSix principal Ken Warman said: "We're trying to give our students every opportunity to be properly prepared."
He added that 75% of his students did not have family members who had attended university before.
"Most of them will have been at schools that are modern," he said.
Luke Pearce, 16, is aiming to study Philosophy, Politics and Economics at Oxford, making him the first member of his family to go into higher education.
He said he has always harboured the ambition to be prime minister.
He said: "The red room's amazing. It's elegant and beautiful.
"Just stepping in makes you feel quite inspired and privileged."
Asta Diabate, 18, said: "It's like stepping into university when we get there, it's a completely different setting."
'Oxford myths'
BSix was founded in 2002, whilst Pembroke College was founded in 1624.
The two colleges are currently collaborating and Dr Peter Claus, senior research fellow in history at Pembroke College, is giving lectures at the London institution.
He said: "I think the situation with social mobility and the possibility of the most talented of our young people to get to the very top and to do their best is urgent, especially in the current economic crisis."
Dr Mark Fricker, Pembroke's academic director, said: "Working with schools and colleges to support bright students thinking about applying to Oxford is incredibly important - especially those students who might not have even considered Oxford or other selective universities within their reach.
"Addressing some of the myths about Oxford, helping students and teachers to understand what the application and admissions process is about, and taking this message directly to them through outreach work in schools like the programme with Brooke House are central to this work."
In January studentElly Nowell criticisedthe University of Oxford for holding interviews in "grand formal settings" which she said benefited public school applicants.