The Cherwell School Oxford installs solar panels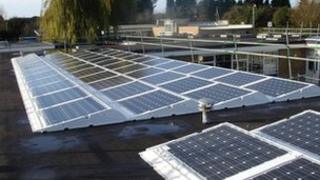 Solar panels have been installed at an Oxford school.
The 232 panels were built on two roofs of Cherwell School in Summertown.
The scheme is being launched later in a ceremony attended by the lord mayor of Oxford, Elise Benjamin, who is also from the Green Party.
Seventy-five people in the community raised more than £145k to finance the scheme. "This is a fantastic example of the sort of community solar initiative we desperately need," she said.
The scheme was arranged by Oncore (Oxford North Community renewables), a cooperative set up by Low Carbon Oxford North (LCON).
Headteacher Paul James said: "Although there are small energy cost reductions for the school, the main reasons for our involvement are the educational benefits of seeing a renewable energy source in action on our own site."