Oxford May Day celebrations to see Magdalen bridge open again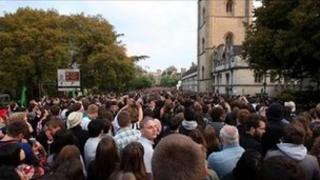 Revellers at Oxford's May Day morning celebrations will be able to access Magdalen Bridge for a second year after it was closed for the previous five.
Last year about 18,000 people gathered on and by the bridge to listen to a traditional hymn which was sung from Magdalen College tower.
In the past people have been hurt jumping from the bridge into the river.
But last year the council organised an event "without incident" and said it aimed to do the same in 2012.
Leader of Oxford City Council, Councillor Bob Price, said: "I am pleased that last year everyone respected the decision to open Magdalen Bridge with new safety measures in place and I hope that May 1st 2012 will be equally enjoyable."
'Drinking responsibly'
The council has made clear that current near drought conditions mean the water levels in the river are very low which makes jumping in from the bridge extremely dangerous.
In 2005, 40 people were hurt when they jumped into the river and the county council said the cost to the health service that year was about £50,000.
Aubrey Bell, from South Central Ambulance Service, said: "Please spare a thought for patients who may be suffering life threatening medical emergencies in the city, by drinking responsibly on the day to help to ensure ambulance resources are available for those people who may genuinely need them."
The bridge will be open to pedestrians and closed to traffic from 04:30 until 09:00 GMT on 1 May.
The council said it would reopen to traffic as soon as it was safe to do so.