Bookmaker adds jockey to Uffington Horse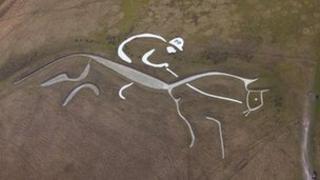 A bookmaker has added a giant jockey to a ancient hill carving in Oxfordshire.
The firm said it added 200m of canvas to the Uffington Horse under the cover of darkness, ahead of the Cheltenham Festival.
The Bronze-Age chalk hill figure was altered by the Irish firm Paddy Power using night vision goggles to create a temporary rider on the horse.
The artwork was pinned to the ground using tiny tent pegs and later removed.
The firm said it took six hours to create the jockey on the horse, which is owned by the National Trust.
Paddy Power from the firm which bears his name said: "It's been taken down already.
"We had it up this morning and lots of pictures were taken and then the ranger on site asked us to remove it.
"It was a very short stay - the rider has been unseated."
A spokesman from the Vale of White Horse District Council said: "We are sure the company involved have ensured no damage has come to the historic chalk drawing."
In 2010, the firm erected a Hollywood-style sign on Cleeve Hill for the Gold Cup Festival.