Road painters misspell school at Wolvercote Primary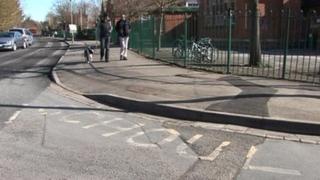 Children in Oxfordshire have been left doubting their text books after seeing a botched road marking outside their school.
A bungling road painter has left the word "schoul" written on the street outside Wolvercote Primary.
An Oxfordshire County Council spokesman blamed BT contractors for the error.
In a statement BT said: "All we can say at the moment is that our contractors are investigating whether they carried out this work on BT's behalf."