Banbury housing development named to honour student's life coach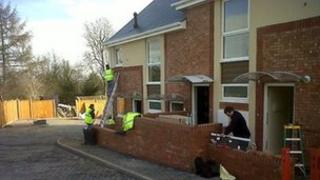 Connexions worker Julie Donaldson had been a popular leader for the students who helped build a terrace of flats for young people in Oxfordshire.
So when she died from a short illness in January - about a month before the project was completed - the students thought naming the development after her would be a fitting tribute.
Donaldson Court, on Banbury's Bretch Hill estate, opened on Friday after a two-year building project costing £1.2m.
Construction lecturer Alex Gowney said Ms Donaldson had been much loved by the students on site.
"She helped with their CVs, prepared them for interviews and gave them a range of life skills," he said.
The 10, one-bedroom flats, have been built by the charity Sanctuary Housing Association in partnership with Cherwell District Council.
The aim was to provide housing for local young people as well as training opportunities for about 20 students, aged 16 to 25, from the local area.
'Real change'
"These projects are very important and that's become apparent with the success of this project," Mr Gowney said.
"We're looking at 20 people who would possibly be doing nothing at all with their lives, who are now either working, in college or are still on the project and if they are still on the project they've show a real commitment to have been here for 14 months.
"They've all pass the qualification at varying levels, those that have been here the longest have got the highest possible qualification but the progress they've made in terms of getting used to getting up in the morning, and getting a taste of working life has been the real change we've seen in them.
"The importance of these schemes can't be overstated really."
The students have worked on the project for free and only received payment in the form of an Education Maintenance Allowance.
Richard York worked on the houses for more than a year.
"I was doing part time work through family and friends and I got into this through Connexions," he said.
"When we first come here it was all flat, muddy and just old allotments and I've helped dig the footings and get it to the state it is today.
"I've learnt to drive the machinery and different parts of the whole process.
"From here I want to carry on doing what I'm doing and just keep getting better at it."