Swinley Forest replanting continues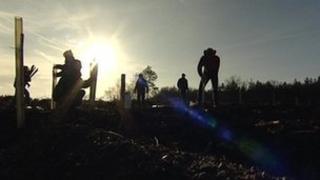 Volunteers have resumed the replanting of 60,000 trees at a Berkshire forest devastated by fire.
The blaze in Swinley Forest raged for three weeks in May 2011, damaging more than 100,000 trees, most of them pines.
More than 85 acres will be replanted over the next two months. Freezing conditions led to the postponement of work earlier in the month.
In January, about 250 people helped plant nearly 5,000 oak, sweet chestnut and Douglas fir trees over two days.
Volunteer Kelly Hutchinson, from Crowthorne, said: "There's so many people helping, the atmosphere in the woods is fantastic."