Eynsham cricket pavilion destroyed in suspicious fire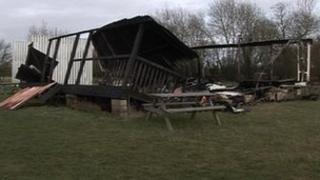 An Oxfordshire cricket pavilion has been destroyed in a suspected arson attack.
Villagers in Eynsham spent five years fundraising for the cricket ground and pavilion, which was completed in 2006.
Crews from three stations were called to ground in Cassington Road in the early hours of Monday where the blaze had already taken hold.
Firefighters were forced keep their distance from the burning building as there were gas cylinders inside.
Thames Valley Police is treating the fire as arson.
Club chairman Sue Cook said: "It's devastating for the club. We worked very hard to fundraise for the pavilion for five years - the whole village pulled together.
No-one hurt
"We had cake stalls and sponsored walks. We got local business to help us and sponsor us, so it's a shame that it's all destroyed and we are back to nothing."
Ms Cook said the club had already received a pledge of £200 towards rebuilding the pavilion.
Oxfordshire Fire and Rescue station manager Paul Bremble said: "The crews were faced with a well developed fire which involved the whole of the cricket pavilion.
"The actions of the crew directing jets on to the cylinders reduced the risks of this incident escalating. Thankfully no-one was hurt."
A message on the Eynsham Cricket Club website read: "Last night the pavilion was destroyed by fire. Police are currently at the scene and it is cordoned off until their crime scene unit can take a look today."