Flood damage in South Hinksey could take months to fix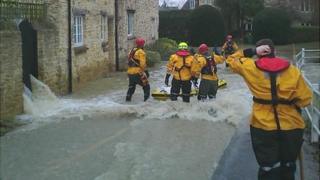 Insurers have told residents in an Oxfordshire village it could take up to six months to fix flood damage.
Eight homes were left under water and the supply was lost to 2,500 more when a 24in (60cm) water main burst in South Hinksey, near Oxford, on Friday.
A temporary road is allowing vehicles in and out of the village, while the slip road off the A34 is closed.
Linda Slater said there was a lake at the front of her house and water was pouring in at the back.
She said: "The police asked us to leave in a small boat but we've got hiking poles and were able to use them to help us walk out but you could feel the force of the water, it was quite frightening.
"We managed to save most of our valuables and we've been lucky enough to find another home in the village to rent while our own is repaired.
"They've said it could take up to six months but nobody really knows how long it will take for the old stone walls to completely dry out. Until that happens, they can't start repairs."
Marion Norris was on holiday when the flooding happened and returned to find her cat had drowned in the garden.
She said: "We're a bit upset at the moment. Obviously we're going to contact the insurance company and see what they are going to do."
A Thames Water spokesman said: "We would like to stress again how very sorry we are to everyone affected, particularly to the people in the eight properties we flooded. Our priority now is getting their homes and lives back to normal as soon as possible.
"If we have damaged people's property, it's our responsibility to put right and we will put it right."
Fire and rescue crews had to use a boat to help people evacuate their homes and rescue belongings.
Residents described the water as being 4ft (1.2m) high.
One resident had to be rescued by a firefighter from an upper floor window because the force of the water was so great she was unable to open her front door.
The water main burst on the slip road off the A34 on to Manor Road, which is the only access to the village.
Thames Water say the temporary road out of the village is likely to be in place for about a week.