Woodeaton villagers fight quarry reopening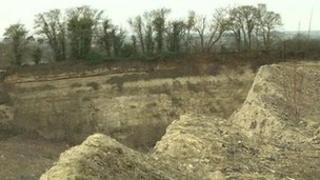 Oxfordshire villagers are fighting against plans to reopen a quarry near their homes.
McKenna Plant Hire (Oxford) Ltd wants to dump 340,000 cubic metres (about 520,000 tonnes) of inert building waste like clay, in Woodeaton Quarry.
Residents have raised concerns about increased traffic noise and dust from the site.
Company director Michael McKenna said tests had been carried out and noise levels would be minimal.
"We do not anticipate any problems with traffic volumes as the impact statement suggests it will only be affected by 0.2%," he said.
"This quarry will keep our company working and so will keep our staff employed."
'Very dangerous'
The company estimates 20 lorry journeys, to and from the site, each day for the next ten years.
The proposed route runs from the Headington roundabout through the Barton housing estate.
It also includes the Bayswater Road, onto the B4027, and through Beckley and Stowood.
Resident Michael Simmie said: "We will have constant noise throughout the week and on Saturdays.
"Obviously, there will be a dust problem and the increased traffic. It will impact seriously on Woodeaton and all those who live there."
Ginette Camps-Walsh, another resident, feared the route would be a hazard to villagers.
"It will be very dangerous and very unpleasant for everybody," she said.
"It was the quantity of lorries that horrified me."
Archaeological importance
McKenna, which runs various landfill sites and recycling centres across Oxfordshire, currently has permission to reopen Woodeaton to quarry it.
However, it wants to use it for tipping away "inert" clay and sand from building sites instead.
It proposes to operate between 07:00 and 18:00 on weekdays and until 13:00 on Saturdays.
Mr McKenna added that it was also working closely with Natural England to preserve the archaeological heritage of the quarry, which is a Site of Special Scientific Interest.
Friday is the final day of a public consultation into the plans.