Suicide in Bullingdon prison sparks HSE criticism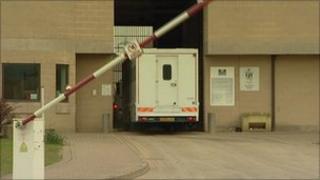 The death of a suicidal prisoner in a so-called "safer cell" at a prison has led to criticism from the Health and Safety Executive (HSE).
Daniel Rooney, known as John Hughes, was in HMP Bullingdon, Bicester, in 2006 while he awaited sentencing.
He was placed into a safer cell at the Oxfordshire jail after trying suicide, but still managed to hang himself.
The National Offender Management Service (NOMS) claimed it had taken action to prevent similar incidents.
On 26 September at 19:45 BST, a prison officer found Rooney with a noose around his neck trying to tie it around a light fitting.
Unable to prove
Having identified Rooney was at risk of suicide or self-harm, a senior officer placed him in a safer cell at 20:00.
Rooney was observed by prison staff on three occasions before he was found hanged with a ligature made from his bedding and fixed to a shower rail support bracket at 20:45.
The bracket had been fitted to the wall using screws strong enough to support a ligature made from bedding in the cell, although this should not have been the case.
Investigations conducted by the Prisons and Probation Ombudsman and the coroner were unable to prove when the shower rail was installed, who installed it, who authorised its installation or who checked it had been fitted in an appropriate way.
The NOMS organisation, set up to look after offenders, has been issued with a formal Crown Censure by the HSE following the investigation, as government departments cannot be prosecuted under health and safety laws.
NOMS said in a statement: "The death of Mr Rooney was a tragedy, our sympathies are with his family and friends.
'Unnecessary tragedy'
"Since Mr Rooney's death there have been significant developments in the NOMS policy for the care of prisoners who are at risk of suicide and/or self-harm, including guidance on the use of safer cells.
"The importance of the integration of the cell maintenance of safer cells has been disseminated to all prisons.
"Mandatory requirements have been introduced to ensure ongoing checks of the fabric of safer cells."
The HSE said Rooney's death had been an "unnecessary tragedy".
HSE director Heather Bryant, who took the Censure hearing, said the standard in the safer cell had been "far below what is appropriate for those vulnerable prisoners".
HSE's investigating inspector Matthew Lee said 91% of all self-inflicted deaths in prison were by hanging.
The Crown Censure found that on the date of Mr Rooney's death, NOMS did not comply with Section 3(1) of the Health and Safety at Work etc Act 1974 and Regulation 5(1) of the Management of Health and Safety at Work Regulations 1999.