Oxfordshire 12th Century church damaged by fire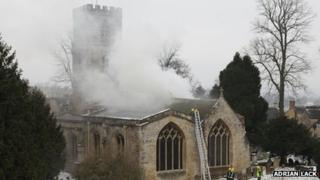 Fire crews worked for 12 hours to save a 900-year-old Oxfordshire church from going up in flames on Sunday.
Firefighters were called to St Mary the Virgin Church in Charlbury at 12:00 GMT as plumes of thick smoke were coming from the church roof.
They were forced to saw through the roof in order to create a fire break to stop the flames spreading.
Arson has been ruled out as the cause of the fire. The fire service said the church was empty at the time.
John Nixon, incident commander for the South Vale area, said eight fire engines were called to the blaze and specialist crews with chainsaws had to saw through the roof.
"It was quite a large fire, it took hold of the roof of the church," he said.
"There was damage to the roof.
"Some of it was caused by us, because the only way of dealing with the fire was to cut out the roof and create a fire break.
"We did save the church from burning down."
'Water damage'
Crews from Charlbury, Chipping Norton, Witney, Banbury, Oxford, Kidlington, Eynsham and Hook Norton attended the incident and remained on site until midnight.
Judy French, vicar of Charlbury with Shorthampton, said the firefighters had been "fantastic".
She said the church was part Norman and parts had also been constructed in the 14th and 15th Centuries.
"Unfortunately the part of the roof which was burnt was 15th Century," he said.
"It's very sad the damage was concentrated in the older parts of the church.
"Inside there's a lot of water damage and fire damage.
"We'll wait to see what today brings and do our best to keep services going."