Oxford Westgate Shopping Centre plans approved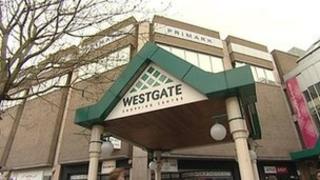 Plans for a new £330m Oxford shopping centre have been approved.
The Labour-run Oxford City Council approved the proposals for the Westgate on Wednesday evening, which include a John Lewis store and some housing.
Council deputy leader Ed Turner called it "fantastic news for Oxford" and said 2,500 new jobs would be created.
But Sushila Dhall from the Green Party said plans would lead to major traffic congestion and the land should be used on alternative projects.
She added: "I think the current Westgate Centre could do with being revamped but at the back of it where St Ebbe's was demolished we could make the best use of the land by having affordable housing, small business units, a community centre, public space, and have it car-free."
'Prime retail space'
Nigel Wild, president of Oxfordshire's chamber of commerce, welcomed the improvements.
He said: "We need that kind of income, we need that kind of attraction.
"Oxford desperately needs some prime retail space and prime retail outlets.
"Shopping in Oxford has been traditionally poor and we need that kind of development in order to attract people to make it a destination city."
Building work will include an underground car park and could begin in 2014.
Mr Turner said he was hopeful the shops and car park would open "in the next five or six years".
The terms of the agreement are to be finalised in March.