Oxfordshire school catering service to be outsourced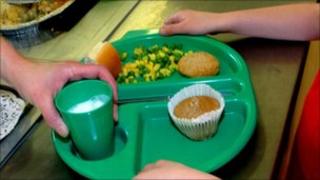 Oxfordshire's council-run school catering service is to be run by a private company from September.
Food With Thought currently provides meals for 33% of the county's schools and makes a small profit.
But after advice from officers the county council has decided to incorporate the service with its new contract for buildings and facilities.
Providers will have to price their meals at £2, compared to the current £2.10, while maintaining standards.
'Quality'
Labour councillor Liz Brighouse said after getting into difficulties a few years ago, Food With Thought had managed to turn itself around and was now a successful service which was able to reinvest in training and equipment.
She said: "Food With Thought isn't making money for shareholders.
"It would be good if the county could continue to support the people who were already working in the schools and providing really good meals."
The deputy leader of the Conservative-run council, David Robertson, said the majority, if not all of Food With Thought's staff will be able to transfer to the new service.
He added: "The members of the council's cabinet are looking to ensure that any new service maintains current standards of quality.
"Indeed they insisted on proof of improvements to what is provided at the moment."
The decision on which company is awarded the new contract will be taken on 13 March.