Cowley Road Carnival cancelled over 'festival fatigue'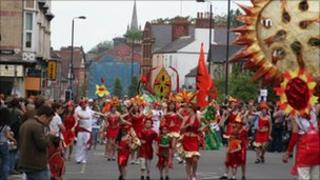 A popular annual community event in Oxford has been cancelled to avoid "festival fatigue", say the organisers
A statement from Cowley Road Carnival said competition from Diamond Jubilee celebrations and the Olympics led to the decision to cancel the 2012 event.
Chairman John Hole said it was "proving very difficult" to organise events and raise funds within 12 months.
He insisted the carnival, which attracted 20,000 people to South Park in July 2011, would return in 2013.
The volunteer-run carnival began in 2001 as part of the regeneration of the Cowley Road area, however a lack of funds led to it being held at South Park rather than on the road in 2011.
Despite concerns about the financing of the event, Mr Hole said it did make a small surplus.
He said: "We want to avoid festival fatigue. We're really happy all of these other events are happening.
"We can benefit from a longer planning period to return in 2013 with the schools and community procession, music performances and even more of the community-focused events that make carnival so magical."