Airport liquid scanner 'could end flight restrictions'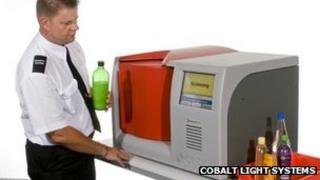 A company claims it has developed a scanning machine that could mean an end to liquid restrictions on planes.
Oxfordshire-based Cobalt Light Systems said its INSIGHT100 device could analyse bottles up to three litres for explosives in less than five seconds.
A ban on liquids over 100ml in hand luggage was introduced after a foiled 2006 plot to blow up planes using explosives hidden in drink bottles.
The UK government said it was working towards plans to ease the ban in 2013.
Cost worries
Cobalt Light Systems, which has developed the device with the help of a government grant, said it was already running trials at four European airports.
The machine shines a laser at the container, with the spectrum of colours that are returned cross-checked against those collated on a library of explosives.
Dr Paul Loeffen, chief executive, said the machine had passed European standards and could be rolled out if the trials were successful.
The European Union has been planning a phased ending of the restrictions when airports are confident they can effectively screen liquids.
But the move has been delayed until 2013 after airports complained they were not ready and did not trust the technology.
Labour MEP Brian Simpson accused British airports of dragging their feet due to the cost of the new scanners.
At the time, the Airport Operators Association (AOA) said that it would not compromise security with equipment it was not convinced worked.
High threat level
Darren Caplan, AOA chief executive, in response to INSIGHT100 said: "Improving passengers' experience is a top priority for our airports.
"AOA is working through its European association to carefully follow the results of ongoing trial work.
"The key to success will be good detection capability coupled with the ability to screen passenger items quickly."
The UK government said the partial lifting of the restrictions were scrapped "in the light of the continuing high threat level" to security.
It said it remained committed to the 2013 date dependent on the security threat at the time.