Squash players claim world record in Oxfordshire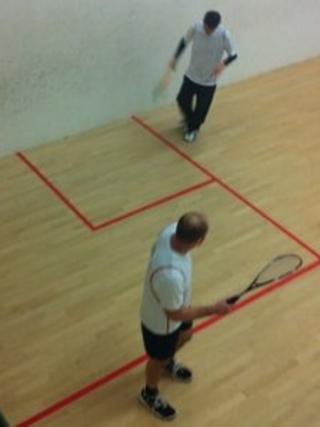 Two squash fans from Oxfordshire are claiming a world record - after playing for more than 31 hours.
Guy Fotherby, 51, and Darren Withey, 48, are hoping to raise a total of £10,000 for Cancer Research and the Chiltern Centre for Disabled Children.
Their match began at Thame's Racquets Fitness and Squash Centre at 10:00 GMT on Friday before ending on Saturday evening.
Mr Fotherby: "We feel brilliant. We've had tremendous support."
They are now waiting for officials from Guinness World Records to officially confirm their achievement.
The pair played more than 200 games in the 31 hour, 15 minute session.
Mr Fotherby added: "We had the right equipment and footwear so we don't have any blisters - but we are a bit achy.
"We're just going to have a shower and grab a meal."
The players were allowed to take a five-minute break every hour. They also had a massage in the middle of the night.
So far the pair, who completed a 24-hour squash marathon for Children In Need last year, have raised about £7,000 this year but extra donations placed in charity boxes have not yet been counted.
Mr Fotherby, from Thame, is a director for a marketing company while Mr Withey, a professional squash coach, is from Butlers Cross, Buckinghamshire.