'Profound shock' at Professor Steven Rawlings' death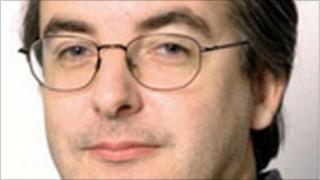 The unexplained death of an Oxford University professor has "profoundly saddened" the institution, its vice-chancellor has said.
Prof Andrew Hamilton said the entire university community was shocked at the untimely death of Steven Rawlings.
Prof Rawlings, 50, was found at a bungalow in Southmoor, Oxfordshire, belonging to fellow Oxford academic Devinder Sivia, on Wednesday night.
Dr Sivia was held on suspicion of murder but has since been bailed.
Police said the death may be "a matter for a coroner's inquest rather than a criminal court".
Officers said Dr Sivia had been bailed until April.
The emergency services were called to Laurel Drive, Southmoor, at 23:20 GMT on Wednesday by a member of the public reporting that a man had been injured at the property.
Married Prof Rawlings was declared dead at the scene.
'Open mind'
Thames Valley Police said a post-mortem examination carried out on Prof Rawlings had been unable to establish a cause of death and that further tests would be conducted.
They have said they are keeping an "open mind" about the circumstances of the academic's death.
Det Supt Rob Mason said: "A substantial amount of information is already in the public domain and we can confirm that the two individuals involved have been friends for over 30 years."
He said all potential circumstances that could have led to Prof Rawlings death were being investigated.
"We are mindful that ultimately the death may be a matter for a coroner's inquest rather than a criminal court and I would ask for patience from both the media and the public while we continue our investigation. "
Prof Rawlings was official fellow and tutor in physics at St Peter's College.
The academic, who was elected to his fellowship in 1994, was head of the sub-department of astrophysics at the university from 2006 to 2010.
Former BBC Radio 4 controller Mark Damazer, now master at St Peter's College, said Prof Rawlings was a "much-liked and admired tutor" who was survived by his wife, Linda.
Mr Damazer said: "He was one of the lead scientists in the international Square Kilometre Array (SKA) project and also played a prominent role in the redevelopment of the Goonhilly Satellite Earth Station in Cornwall as a radio astronomy facility."
The SKA project involves constructing the largest and most sensitive radio telescope ever built.
Dr Sivia, based at St John's College, has taught "maths for natural sciences" to chemistry and physics undergraduates for a number of years.
His research interests revolve around the Bayesian probability theory - mathematics for inferring, or reasoning using probability.
Dr Sivia and Prof Rawlings co-authored and published a book together in 1999, which was called Foundations Of Science Mathematics.