Antony Worrall Thompson 'sorry' for Tesco shoplifting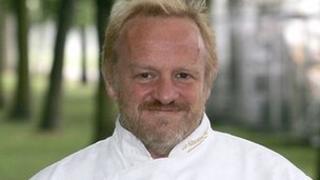 TV chef Antony Worrall Thompson said he has "let down" his family after being cautioned by police for shoplifting and said he will "seek treatment".
Police arrested the 60-year-old at the Tesco store in Reading Road, Henley-on-Thames, Oxfordshire, on Friday.
Worrall Thompson, from High Wycombe in Buckinghamshire, was questioned and given a formal caution.
He apologised for his "stupid and irresponsible actions" and said he hoped he could "make amends".
'Low value goods'
In a statement, he added: "I am of course devastated for my family and friends, whom I've let down and will seek the treatment that is clearly needed.
"I am not the first, and I certainly won't be the last person to do something without rhyme or reason - what went through my head, only time will tell.
"Of course, I must also apologise sincerely to Tesco, with whom [I've] had a long and genuine working relationship, and to all the staff at the Henley branch, many of whom I've got to know over the years.
"I am so sorry for all my recent stupid and irresponsible actions.
"Hopefully in the future I can make amends."
A police spokesman said the incident involved "low value goods".
Ready, Steady, Cook
Tesco declined to comment, describing it as a "police matter".
In a statement, police added: "Thames Valley Police arrested a 60-year-old man from High Wycombe following a report of shoplifting offences.
"The man has been issued with a formal caution for these offences."
The chef has appeared on shows including the BBC's Ready, Steady, Cook and ITV's Daily Cooks Challenge.
He opened his first restaurant in London in 1981.
In 2009, he had to close four of his restaurants because of an "unexpected but decisive fall in revenue across the businesses from September 2008".