Bishop praises Church of England's longest serving vicar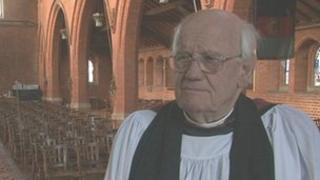 A bishop has paid tribute to the longest serving vicar in the Church of England.
The Reverend James Cocke has been at All Saints Church in Headington, Oxford, since 1957.
He became the longest serving incumbent in October 2011 when another vicar, The Reverend Trevor Thorpe, retired from St Andrew's in North Weald, Essex.
The Bishop of Oxford John Pritchard said: "Jim Cocke is a much loved and seemingly permanent feature in Oxford."
Mr Cocke said far fewer people went to church now than when he was ordained in 1952.
He said his 55 years in Oxford had been a "great privilege" but nowadays people either went fairly regularly or they did not go at all.
He said: "That's been one great change and, of course, there have been great changes within the church of England."
He said he did not agree with everything that had taken place but that there had been many improvements such as the new services in the book of common worship.
Mr Pritchard said: "He [Mr Cocke] has maintained a high standard of pastoral care in the parish in the best tradition of Anglican ministry.
"He has also maintained a splendid choral tradition and good preaching in the church's worship.
"We owe Jim much for his committed, faithful love of God and his people."