Oxford university students face 'party patrol' over noise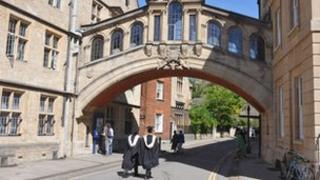 Oxford university students could have their night-time noise levels monitored by a "party patrol" team under council proposals.
It comes after Oxford City Council received 4,289 complaints in three years over loud music and party noise.
The council is considering setting aside £12,000 for a night-time patrol.
Oxford Brookes University said it already had its own patrols and Oxford University said students were not the only ones causing a noise nuisance.
Councillor John Tanner, who is behind the proposal, which he has dubbed the party patrol, said some residents putting up with party noise "night after night" was "pretty dreadful".
Targeting students 'unfair'
He added: "We want to be pro-active because at the moment we are not getting on top of this noise problem."
Currently the council's system of dealing with noise complaints is to have environmental health officers on call, who will deal with any issues the following day.
Mr Tanner said having night-time patrols "could nip the problem in the bud".
He added patrols would take place at times of the year when the council predicted late parties would mostly take place, such as Freshers' Week and the beginning and end of university terms.
However, Oxford Brookes Students' Union president Paul Mason said it was "unfair" to blame all the noise on students.
He said: "There may have been more than 4,200 complaints but that isn't 4,200 complaints only directed at students."