Tibetan spaniels stolen from Oxfordshire kennels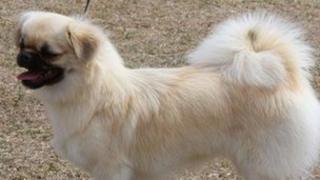 Five Tibetan spaniels were stolen from a kennels in an Oxfordshire village on Tuesday afternoon.
The owners, Heather Simper and Liz Scoates, originally believed six pedigree dogs had been stolen from their home in Upton.
Ms Scoates returned to her house to see a van parked in a field nearby and a man carrying away two of the dogs.
Two dogs were tracked down to the Hampshire town of Tadley by police officers.
Three of the spaniels are still missing - a two-year-old called Gladys and two puppies named Alice and Amy.
A sixth dog, which was also thought to have been stolen, ran away and was found later.
Ms Simper said it was the first time a dog had been stolen in her 40 years of breeding and showing Tibetan spaniels.
"One of the dogs was so frightened when the thieves came into the kennel it went and hid in the fields for hours and only turned up on our doorstep at 10 o'clock.
"Something has to be done about these dogs being stolen because it is breaking people's hearts," she said.