Rise in dumped Oxfordshire Christmas animals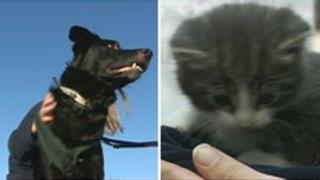 An Oxfordshire animal rescue centre says it has seen a rise in the number of stray cats and dogs being left over Christmas.
Staff at The Blue Cross centre in Burford said "financial pressures" were to blame.
Among the animals taken in by the centre was a five-week-old kitten which had been abandoned in a field.
And a German Shepard-cross which had never been walked because his former owner was agoraphobic.
The charity said it had seen a 27% increase in stray and abandoned pets across the UK this year compared to 2010.
Laura Sleight, from The Blue Cross, said: "We know that people are feeling financial pressures at the moment, particularly around Christmas, but we'd urge them never to dump an animal.
"It is far better to call us for advice or bring them in to a centre safely and with details of their history so we can find them the right home."
It is hoped Noel, the abandoned kitten, and the German Shepard-cross Aussie will be rehomed in the new year after recovering at the rescue centre.