Oxford City community sports arena ready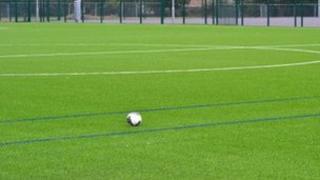 A £2.1m community arena has been completed at Oxford City Football Club.
The centre at Court Place Farm in Marston includes a full-sized artificial grass pitch, pavilion and six floodlit netball courts.
Oxford City chairman Brian Cox said: "Quite frankly, this is now the finest facility in Oxford of its type. There's nothing like it."
The facilities will be available after the holidays. An official opening event takes place on 25 January.
Mr Cox added: "It's entirely there for the community so anyone who wants to do any sport can come along and it's there for them.
"Until now, there has been nowhere like this for the community.
"The first netball players will start their league games next month and we hope it will be very well used from then for years to come."
'Choc-a-bloc'
The centre was funded with £900,000 from the Football Foundation, with grants from England Netball, Sport England, Oxford Sports Council and Oxford City Council.
In addition Oxfordshire Netball donated £80,000 and Oxfordshire Sport Council £40,000.
Oxfordshire Netball secretary Kate Hopcroft said: "We'll be in there on 9 January and the courts will be choc-a-bloc with women playing netball.
"The whole Oxfordshire League is going there and then our junior leagues will be too.
"Netball in the county will develop so much because of this."