Lesbian couple driven out of Banbury home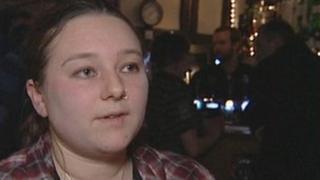 A lesbian from Oxfordshire has said she was driven out of her home by months of homophobic abuse.
Siobhan Fogarty lived in Banbury with her girlfriend but after threats and intimidation from neighbours and people on the street she decided to leave.
She said: "It was a really intimidating experience pretty much all the time and sent both of us into depression."
Ms Fogarty said she did not contact the police about the harassment she received.
Last year police investigated just under 5,000 homophobic crimes offences in the UK.
'More pain'
But gay rights groups say that many more offences go unreported.
"People have to do what's safest for them as individuals," Ms Fogarty said.
"If that means someone can't face going into a police station and being told: 'That doesn't count, that's not big enough, your pain doesn't really matter in a legal sense,' then that's just going to make more pain on the person that's already been victimised."
Insp Omar Abu-Rish, from Thames Valley Police, said hate crime was totally unacceptable and urged people to come forward.
He said: "We will deal with anything we are contacted about.
"We are there to support the victims and to deal with the offenders."