The Phoenix comic rises from recession flames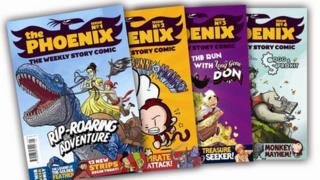 A publisher is stepping back into the children's comic book market, hoping to succeed after the economic crisis put paid to its previous venture.
The first edition of The Phoenix by the Oxford publisher David Fickling Books is out in January after its first title DFC closed during the recession.
Former Marvel illustrator Andrew Wildman said it could potentially reinvigorate the comics market, but described the effort as "brave" given the current state of the UK economy.
He said The Phoenix might struggle without being connected to an established toy or brand.
'No outlet'
Mr Wildman added: "Things like the Doctor Who Magazine do really well but it can be tough if you're launching cold and people are not aware of you.
"But some people say that comics are outdated. I don't necessarily agree.
"There were some stand out things in DFC and I'm sure there will be some stand out things in The Phoenix."
DFC folded after 43 issues in 2009 when its parent company Random House pulled the plug.
The new title will feature many of the original writers like Kate Brown from Oxford and Adam Murphy from Witney.
Mr Murphy, a storyboard artist for a local video games company, said: "My impression is that the comic book market has been very dry for a long time.
"It seems like there has been nobody providing an outlet, particularly for children's comics.
"The Beano and The Dandy are doing good stuff but there has been less and less produced for kids."
Mr Murphy will write one page a week for The Phoenix called Corpse Talk.
In it he resurrects famous historical characters such as Genghis Khan and interviews them about their lives.
'Getting a break'
Comic novel writer, Kate Brown is serialising her story called The Lost Boy over 35 weeks in The Phoenix.
She has been working on the story and artwork since the spring and has completed about a third of the work.
She said: "It can be difficult for artists to find work in this country and a lot of people end up producing material for comics overseas so I think The Phoenix has been very beneficial for emerging UK artists.
"Lots of people are getting their break with it."
The Phoenix has also been backed by one of the country's most established authors.
The Oxford writer Philip Pullman wrote a story in the DFC comic and hopes to provide another for The Phoenix.
The self-confessed comic book devotee said: "It'll be thrilling to watch The Phoenix to take to the skies and carry the particular kind of delight I felt as a boy to everyone who reads it."