Oxford horse-drawn carriages will not return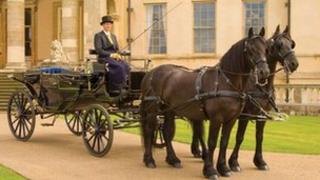 Horse-drawn carriages will not be returning to Oxford's city centre.
Councillors rejected the plan amid concerns about animal welfare and traffic congestion.
The route would have taken 30 minutes but Dene Stansall from Animal Aid said the cobbled stretch on Merton Street would "cripple" a horse.
Kevin Merry, who would have run the service, said he had been dealing with horses for more than 30 years and their welfare was "of great importance".
He added that the carriages would pick up and drop off only in Broad Street and would go a different route to the scenic bus tours which currently operate in Oxford, to minimise disruption to traffic.
Horse droppings
Councillors had also previously raised concerns about horse droppings.
Mr Merry said: "The thing is, there's just two horses pulling one carriage, it's not like the Trooping of the Colour, and they will be cleared up."
Horse consultant Mr Stansall described the plans as "ill-thought through".
Mr Merry said he had run his horse and carriage business for more than 10 years and that carriage rides gave the tourist "a novel and pleasurable way to see the city's sights in style".
He added he had "over 30 years' experience of working with horses" and that he donated a portion of his profits to a charity working with "maltreated horses".
The decision was made by the full council, which voted 27 against and 16 in favour, on Monday.