Oxford horse-drawn carriage route 'would cripple animals'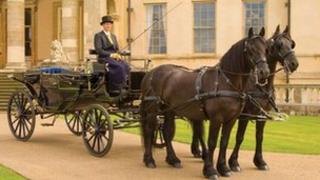 Oxford city centre will get horse-drawn carriages if a by-law is passed, but an animal charity said the route would "cripple" a horse.
Councillors will meet on Monday and will hear a speech from Animal Aid's horse consultant Dene Stansall against the "ill thought through" plans.
Kevin Merry, who would run the carriage service, said horse welfare was "of great importance" to him.
The proposed route would take about 30 minutes and start in Broad Street.
The horses used are black Friesians that would work 7.5-hour days.
If passed, the by-law would cover horse welfare, pedestrian health and safety and regulations for proprietors, drivers and customers.
Certain temperature
Mr Merry said he had run his horse and carriage business for more than 10 years and that carriage rides gave "the tourist a novel and pleasurable way to see the city's sights in style".
He said he "has over 30 years' experience of working with horses" and that he donated a portion of his profits to a charity working with "maltreated horses".
However, Mr Stansall will list objections to the licensing committee and call for the by-law proposal to be rejected.
Objections include the absence of a rule where horses cannot work above a certain temperature and the lack of shelter provision.
He added the cobbled Merton Street "is going to cripple a horse walking on there".
The decision will be made by the full council.
If approved, the decision will have to be agreed by the secretary of state for transport.