Rediscovered Velazquez painting sold for £3m at auction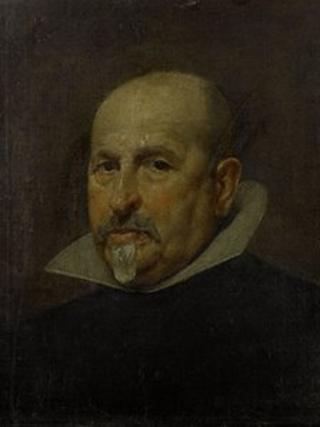 An oil painting by Spanish artist Velazquez discovered in Oxford has sold at auction for £3m.
The unframed portrait of a balding man was found in August 2010 when it was consigned for sale at Bonhams auction house in Oxford.
In-house experts suspected it was by Diego Rodriguez de Silva y Velazquez and had it sent for analysis.
The portrait was confirmed to be by Velazquez after X-ray examination.
It is one of 100 works by the Seville artist known to exist, of which only a handful remain in private hands.
The 47cm (18.5in) x 39cm (15in) painting of a unknown man in a black tunic and white collar was part of a small collection of works owned by 19th Century British painter Matthew Shepperson.
"The discovery of this lost treasure is a once-in-a-lifetime experience and it is tremendously exciting to be able to bring it to the world's attention," said Andrew McKenzie, director of Old Master Paintings at Bonhams.
"This is a portrait of outstanding quality which has the most extraordinary presence.
"To have worked so closely with it has been a wonderful experience and a highlight of my career," he added.
The portrait went under the hammer at an auction of works by Old Masters at Bonhams in London.