'Emptiness' of a Christmas alone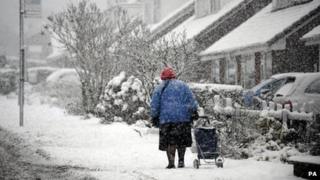 "Last Christmas I spent entirely on my own, with no presents, no phone calls, no visits, nothing."
Pauline, a pensioner from Oxfordshire, has been speaking to the BBC about the loneliness she feels at Christmas time.
She said Christmas left her feeling "tearful, upset, angry and extremely lonely... it's an emptiness, it's a sadness".
Friends of the Elderly has claimed half a million older people in the UK will spend Christmas alone this year.
Its survey suggested 24% of people would not be inviting elderly relatives or neighbours to their Christmas celebrations.
Chief executive officer Richard Furze said: "We're finding more people have less time to get together with older relatives and older friends.
"People realise that Christmas time is especially one of the worst times to not to be with family, and yet somehow our busy lives drive out the good intentions we have.
"A lot of older people are cared for by their relatives but there are others who are really on their own.
"They don't have many people going in to see them day by day in a normal week, and why should it be any different at Christmas?"
'Painful gap'
Pauline, 75, from Carterton, said her children did not seem to want to know her any more.
"I've got a daughter who I haven't seen for 12 years.
"They just think I'm totally self-sufficient and that they don't have to bother me, and that can go on for weeks.
"I think between my children and my [late] husband I feel as though my heart's been broken."
Paul Cann, chief executive of Age UK Oxfordshire, said: "It's a very sad story and I'm afraid it's very common."
He described loneliness as the "painful gap in your life between the amount of contact you want to have with other human beings, and the amount you actually have".
He added: "We know that between 8 and 10% of older people will be feeling very lonely indeed."
But clinical psychologist Dr Katharine Ayivor said many older people tended to isolate themselves.
"Reaching out for the thing we need can be very difficult because it highlights the absence of something we've potentially lost, and at points like that people can withdraw.
"That can set up a vicious cycle because the more time you have to spend on your own, the more likely you will be to think and sit and dwell."
Pauline said she preferred not to spend Christmas with friends' families.
"I don't like going because that hurts more. I don't think people can understand that.
"It hurts more going and seeing a family group that you're outside of."
'Special effort'
Noreen, from Oxford, said she had spent several Christmases on her own.
Speaking on BBC Radio Oxford she said: "The first three or four I used to sit and cry and think 'why has everybody got somebody and I haven't?'
"I've got my radio which is on near enough all the time, and the television.
"I read and the day just goes by. I've accepted it.
"My friends go to their families and I think of them having a good time with their sons and daughters."
As Pauline braced herself for another lonely Christmas, she said she would try not to think ill of her family.
"I don't want to be eaten up with bitterness and anger and hate for anyone.
"I'm just a bit of a nuisance, really, a bit of an extra that they don't really want to bother with.
"Years ago I used to hope my knight with a white charger would come and carry me away and make life better for me, but he never appeared."
Mr Furze said it was up to everyone to look out for their vulnerable relatives and neighbours.
"Perhaps we can make that one special effort some time in our celebrations to invite them over for a mince pie and a drink and make them part of everything that is going on.
"Let's make the effort, each one of us, this Christmas."
Listen to BBC Radio Oxford from 10:00 GMT all week to hear Malcolm Boyden highlight stories of the lonely this Christmas