Oxford's Radcliffe Infirmary revamp will see remains of 700 dug up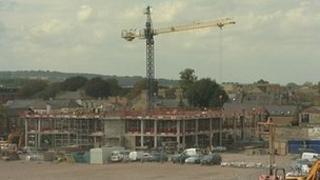 The remains of about 700 people buried under a former hospital in Oxford are to be exhumed as part of the site's redevelopment.
Approval has been given for the bodies to be dug up at the Radcliffe Infirmary site following a public hearing.
There are no identity records for the remains, which are thought to date from 1770 to 1855.
The University of Oxford, which owns the site, said the bodies will be reburied in consecrated ground.
Redevelopment of the site has already started with a new mathematical and humanities building as well as a new school of government and a health centre.
Archaeologists will remove the remains and hope they will reveal important historical information.
Surgical practices
The figure of 700 bodies was estimated after two exploratory trenches were built under strict conditions, the university said.
A spokesman added: "The site of the remains is in the ground of a former fever hospital.
"The burial ground was located in the south-west corner of the site, and was previously built over.
"The main part of the site has been investigated fully from an archaeological perspective and cleared for redevelopment, and a comprehensive report has been published.
"Some remains may be taken away for detailed research which could provide enhanced knowledge of surgical practices in this period."
Exhumation will start once planning approval for the plot is given.