Oxford public to brave ping pong challenge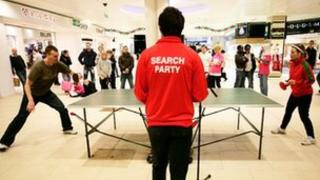 People in Oxford are being invited to take part in a marathon game of public ping pong.
Bonn Square in the city centre will host a table tennis tournament from Friday morning until Sunday afternoon.
It is the brainchild of performance artists Pete Phillips and Jodie Hawkes who call themselves Search Party.
Mr Phillips said the idea was to challenge the people of Oxford to represent their city and win.
"We create this idea that it's you representing the place that you live in the same way the Olympic athletes will be representing Great Britain at the London games."
The event is free to take part for any willing contestants who turn up to play.
Matches will be accompanied by a live commentary to increase the tension and involve the spectators.
Ms Hawkes plays every game and the scores are tallied-up over the three days.
So far the duo, who play under the name Search Party, have played in 14 cities. They have lost against seven, won against six and drawn once, playing in countries as diverse as Finland and Tasmania.
The Sherriff of Oxford will be playing Search Party on Friday and if things go badly Mr Phillips says the Oxford and District Table Tennis Association have promised to "bring out the big guns".