Henley fatal bi-plane crash 'accidental'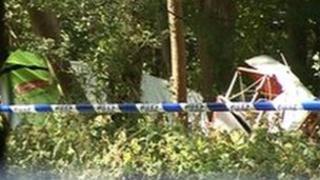 A plane that crashed during an aerobatic stunt killing two men was an accident, a jury has concluded.
Edouard Dupont, 40, and his friend Xavier Franiatte, 31, were attempting to roll their 1946 Belgian bi-plane when it went out of control.
It crashed in a wooded area at Rotherfield Greys, near Henley-on-Thames in Oxfordshire.
The inquest at Oxford Coroner's Court was unable to determine who was flying the bi-plane at the time of the crash.
Helmet camera
A senior air accident inspector told the jury there was no mechanical fault with Mr Dupont's bi-plane when it crashed.
Andrew Blackie, from the Air Accident Investigation Branch (AAIB) said: "What we have here is a loss of control during that manoeuvre and a failure to recover from that loss of control."
Mr Dupont and Mr Franiatte were both French and had private pilot licences.
Mr Dupont also had some basic training in aerobatics and could perform loops and rolls.
The jury heard that the pair had taken off from White Waltham airfield in Maidenhead.
The crash in Oxfordshire was recorded on a camera mounted on Mr Dupont's helmet.
The bi-plane could be seen rolling to the right before spinning towards the ground.
'Margin for error'
It was flying at a height of 3,400ft (1,036m) due to restrictions caused by aircraft traffic from Heathrow Airport.
Oxford coroner Nicholas Gardiner said: "That height is rather low in terms of aerobatics."
Referring to the evidence given by another AAIB expert he added: "It was Mr Blackie's evidence that he would rather end a manoeuvre at that height rather than start it. He said it does not leave much margin for error."
The impact killed Mr Franiatte but Mr Dupont was alive and conscious when rescuers arrived at the scene.
He was flown by air ambulance to John Radcliffe Hospital in Oxford but died shortly after arriving.