Sutton Courtenay villagers complain of compost smells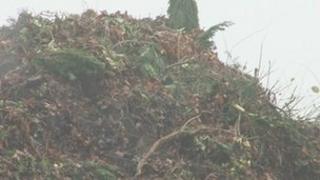 People living close to a green waste composting site in Oxfordshire have complained about unpleasant smells wafting from the area.
Sutton Courtenay residents said the smell at the landfill site had become stronger over the past month due to an increase in compost.
Waste Recycling Group (WRG) said it was working with the Environment Agency to fix the problem.
It has invested £600,000 in "composting infrastructure improvements".
Sutton Courtenay residents have previously opposed proposals for development by WRG on the site and a planning application for a new facility to convert plant material into energy is now pending.
'Nauseating smell'
However, they said they were not making complaints to strengthen their campaign against WRG development plans, but because the smell was so bad.
One resident said there was a "nauseating, sweet foul smell", others said they could smell it when travelling in their cars.
WRG said it was working with the Environment Agency following a recent increase in complaints about smells emanating from its green waste composting facility at Sutton Courtenay Landfill Site.
The company said it was lowering the temperature of the compost and reducing the volume of material on the composting pad to ease the problem, even though these were within permitted limits.
It said the prevailing wind could also be a factor.