Oxfordshire taxi drivers fined for 'SP£ND' graffiti spree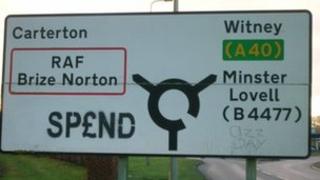 Two taxi drivers who painted the tag "SP£ND" around West Oxfordshire have been fined a total of £5,100.
Brook Purvis, 34, of Whittington Place, Carterton, and Matthew Carr, 25, of Cranham Street, Oxford, pleaded guilty at Oxford Magistrates Court on Monday.
The men committed more than 20 offences between them in the Witney area from February 2010 to January 2011, the court heard.
The fines will cover the costs of cleaning up the graffiti.
Speaking after the sentencing, PC Duncan Johnson said he was pleased both men pleaded guilty as the evidence against them was strong.
He added: "Both police officers and police community support officers collated a large amount of evidence after seeing an increase in the SP£ND tag appearing around Witney."
Purvis, who also pleaded guilty to cultivation of a controlled class B substance, was ordered to pay £2,200 in costs and fines, while Carr was ordered to pay £2,900.