Whitchurch Bridge project is approved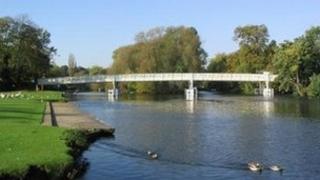 Plans to rebuild a bridge over the River Thames between Oxfordshire and Berkshire have been approved by South Oxfordshire District Council.
Work on the Whitchurch Bridge between Whitchurch-on-Thames and Pangbourne is estimated to cost £4m.
The private toll bridge carries 6,000 vehicles a day but is currently in a poor state of repair.
Work on the bridge is expected to start in October 2012, subject to further approval from West Berkshire Council.
Geoff Weir from the Whitchurch Bridge Company said: "We're very happy and relieved. It's a very important step forward to completing the construction of a new bridge."
'Huge disruption'
Although South Oxfordshire is the lead planning authority, West Berkshire planning committee still has to approve the project because the building work requires the use of the Pangbourne river meadow. The committee is due to meet on 7 December.
If it approves the plans, then the bridge will be closed for seven months from late 2012.
Mr Weir said: "It's going to cause huge disruption, we acknowledge that and we are going to do what we can to work with the local highways authority but there will be a great deal of inconvenience.
"We apologise for that but the work simply has to done or it will be too unsafe to use."
Previously there have been two wooden bridges at Whitchurch. The current Grade II listed metal structure was built in 1902 and whilst it would be strengthened the look and feel of the bridge would be maintained.