Oxfordshire's Thame county show cancelled over losses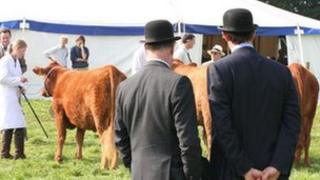 A historic annual agriculture show in Oxfordshire has been cancelled for 2012 after making a £40,000 loss this year.
The Oxfordshire County and Thame Show is one of the largest one-day events of its type in Britain and has been running for more than a century.
But it has gone from making a profit of about £4,000 in 2010 to big losses this year, with some blaming a move from September to July.
Organisers will look again at the event before deciding to stage it in 2013.
The chairman of the show, Martin Hector, said it was a very hard decision to make.
He blamed a number of factors including competition from the Olympics and the drop in numbers of traders wanting to take part.
"Without substantial numbers of quality traders you can't operate a show," he added.
Mr Hector also thought that the event needed more support from the town. It costs £250,000 to stage and relies heavily on local volunteers.
"The number of people under the age of 65 running the show can be counted on the fingers of one hand. It's going down and we get very little support from the agricultural community," he said.
The show is run by a charity and has regularly attracted crowds of more than 20,000 people.
Attractions include trade stands, a food hall, show-jumping, a dog show and sheep and cattle competitions.
The first official show of the Thame Agricultural Association was held in October 1888 but the origins of the event date back to 1855.