Sue Ryder hospice leaves Edwardian building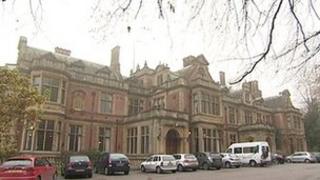 The charity Sue Ryder has announced plans to move its Oxfordshire hospice from an Edwardian house to a purpose-built centre at a community hospital.
Services will move from Joyce Grove in Nettlebed to a new building at the Townlands Community Hospital in Henley.
The new site will allow easier access to specialised medical treatments.
Jason Suckley from the charity said: "We're really excited about the opportunity to be able to provide end-of-life care for generations to come."
'Fit for purpose'
The Grade II listed property was built by Robert Fleming the grandfather of the James Bond author Ian Fleming.
People have been cared for at the house for more than 30 years but the charity could not offer patients single rooms and access via public transport was difficult.
Mr Suckley said: "We're very fond of this building but there are lots of practical considerations in terms of why this isn't necessarily fit for purpose for the type of care that we provide."
It cost about £2m a year to run Joyce Grove and a team of 250 volunteers contribute more than £340,000 a year to the running costs by holding sales of donated items at the house.
Volunteer Marion Bayliss said: "We desperately need somewhere to continue these sales or we won't get the funds needed."
The house will be sold sometime in 2013 with all the proceeds going to the charity.