We Aeronauts headline Upstairs Oxford at the O2 Academy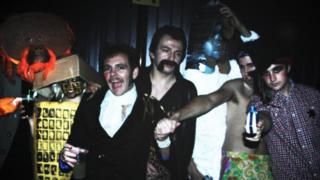 We Aeronauts will headline the next Upstairs at the O2 Academy in association with BBC Introducing in Oxford.
Appearing on the bill with the folk-pop 8-piece on Saturday 19 November are Minor Coles, New Cassettes, Kill Murray and Stem.
Anna Wheatley, lead singer and keyboard player with We Aeronauts, said: "I am mega-excited. We have collectively seen so many bands we love and respect headline that stage - it doesn't feel real that we should join them."
Vocalist and accordion player James Cunning added: "The first gig I ever went to on my own was in that room, when I was about 15 and it was the old Zodiac.
"I've grown up watching bands there and some of my favourite bands have headlined that room - Broken Social Scene, the Walkmen, John Cale, Mogwai. The list goes on.
"It's been an ambition of mine to headline it since I've been involved in the local music scene."
The band formed in 2007 after a holiday together in France led to a burst in songwriting activity.
Influences include Ride, Do Make Say Think, Belle & Sebastian and British Sea Power.
'Sweat a lot'
James said: "It's kind of pop music with a post-rock skeleton.
"We can range from being very, very loud to being very pleasant on the ear."
"We have some pretty folky roots with some post-rock influences and more recently a whole lot of boppy-pop thrown in there too," Anna added.
Minor Coles describe themselves as "an architecture student, a copper, a politician and a beard with glasses" who play "highly charged, energetic, emotional and melodic rock music".
Vocalist and guitarist Mark Stephenson promised the band would "sweat a lot" at the gig and that there would be some new material.
"We spent time writing over the summer and our newer songs have both a harder edge but also a more textured and ethereal sound to them at times," he said.
Also on the bill are Kill Murray, an alternative band including members from Phantom Theory, 50ft Panda and Dial F for Frankenstein, and rockers Stem who had their radio debut on BBC Introducing in Oxford in October.
The line up is completed with Northampton indie rock band New Cassettes who have already played impressive sets at the BBC Electric Proms and the BBC Introducing stage at Glastonbury.
Every month a selection of local talent plays the regular band nights at the O2 Academy, with highlights featured on BBC Radio Oxford's Introducing programme.