Polaris 'super-microscope' installed at Rutherford Appleton Laboratory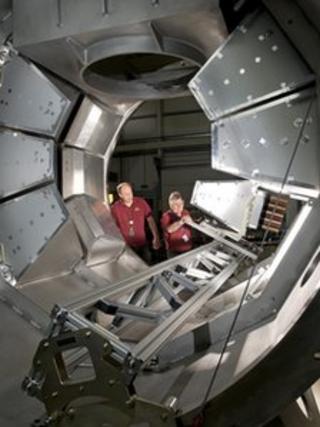 A £4m "super-microscope" that can see objects a million times smaller than a speck of dust has been installed at the Rutherford Appleton Laboratory.
The Polaris took five years to design and build and its makers say it is one of the most advanced in the world.
Neutron scientist Steve Hull at the laboratory in Didcot, Oxfordshire, said it could help improve the performance of laptop and mobile phone batteries.
It could also further the understanding of diseases like Alzheimer's.
The Polaris will measure objects that are nanometres in size, 100,000 times thinner than a strand of hair.
It means scientists can study how pharmaceutical drugs interact with molecules in the body.
The device is 4.7m long and 4.1m high. It contains 44km of fibre optics.
It was lowered into the laboratory by a 30-tonne crane.