Oxford graduate tweets World War II in real time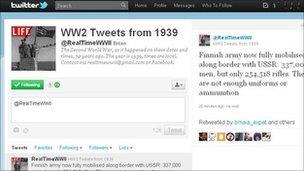 An Oxford graduate is tweeting events from World War II in real time on the social networking site Twitter.
Alwyn Collinson began his six-year project on 31 August, on the eve of the invasion of Poland by Germany.
So far he has gathered 70,000 followers on the account @RealTimeWWII, sending up to 40 tweets a day.
At present, he is sending daily updates on the 1939 "phoney war", how the Dutch are preparing for a German invasion and on the Finno-Soviet border talks.
The 24-year-old told the BBC his tweets reflected to the hour and the day the events of 72 years ago.
"I'm using eyewitness accounts, photographs and video to give the feel these tweets are coming straight from 1939.
"People say it can help connect them to history by seeing it through the eyes and the words of people who were there."
So far his busiest day has been documenting the battle of Warsaw on 26 September, tweeting the events of the day before Warsaw fell to the Nazis.
The tweets are being translated into Portuguese, Spanish and Russian by volunteers.
Mr Collinson's day job is working for Daily Information, an online guide to the city of Oxford.
Related Internet Links
The BBC is not responsible for the content of external sites.