Children in Oxfordshire helped by play therapy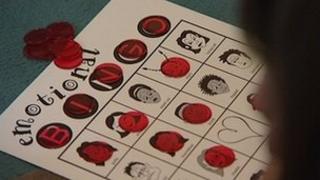 A youth worker at an Oxfordshire refuge has described how play is helping to rebuild the lives of abused and traumatised children.
The refuge houses children and their mothers who have been the victims of domestic abuse.
It is one of hundreds of projects that have been helped by Children in Need.
The worker, who cannot be named to protect the identity of the children, said play helped reveal the abuses they had witnessed.
'Full of fear'
According to the police there were over 3,600 incidents of domestic abuse in Oxfordshire in 2010 where children were present.
In many cases the children themselves became victims.
The youth worker at the refuge told the BBC she had seen many cases where individuals had witnessed their mothers or fathers being beaten.
"We have children [who] have been attacked themselves with machetes, they've had firearms pointed at them and they've been held hostage themselves," she added.
The refuge gives as many as 14 children and their mothers a secure, safe haven where they can stay for up to two years before they find permanent accommodation.
One child at the refuge said: "I feel a lot safer here and you make a lot of friends because everyone is really nice."
Before she moved to the refuge she said her life was "full of fear".
The refuge received over £101,000 from the 2010 Children in Need appeal.
Karen Diver is the service manager at the housing group A2 Dominion, which applied for the grant.
She said: "It allows children who've been through a traumatic experience to have their own space and not feel like they have to be responsible."
The money will be spent over three years and is being used to help the young people affected by domestic violence by providing counselling and other support.
Last year's Children in Need campaign raised a total of £18m.