Oxford's Professor Frances Ashcroft made European Laureate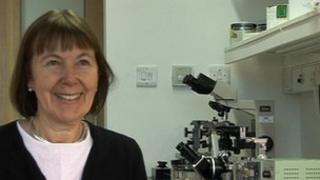 An Oxford scientist has been named 2012 European Laureate for work which has enabled children with diabetes to swap injections for a daily pill.
Professor Frances Ashcroft will be awarded the prestigious accolade at the L'oreal-Unesco For Women in Science Awards in Paris.
She will also be given $100,000 (£62,071) at the ceremony on 22 March.
"The real prize is having made a difference to children's lives and to meet those children," she said.
Frances Ashcroft is Professor of Physiology and a Fellow of Trinity College at the University of Oxford.
In 1984 she discovered the missing link connecting an increase in the blood sugar level after a meal to secretion of the hormone insulin.
'Role model'
The link was identified as a protein known as the KATP channel.
She said: "Years later in collaboration with others we were able to show that genetic defects in the gene that codes for this protein causes people to have diabetes at birth.
"This had unexpected consequences, which was those children had originally been treated with insulin injections but now they could actually be switched to a daily pill and this has transformed their lives.
"It's a team effort and I'm so grateful to all the many wonderful people who have worked with me either in my lab or collaborating with me."
'Intellectual achievements'
Professor Gunter Blobel, Nobel Laureate and president of the jury said Professor Ashcroft was an inspirational role model for younger female scientists.
He added: "This award is testament to Professor Ashcroft's intellectual achievements and her energy, dedication and passion for her research."
The awards will be given to five "exceptional women scientists", one from each of the world's continents at the Unesco headquarters in Paris.
The other winners are Professor Jill Farrant, Professor Ingrid Scheffer, Professor Susana López and Professor Bonnie Bassler.