Oxfordshire bed-blocking patient Jean Belcher returns home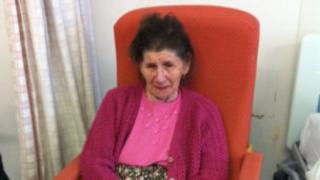 A woman stuck in hospital for more than six weeks despite being fit to leave has been told she can now return home.
Jean Belcher, whose bungalow is visible from Oxford's John Radcliffe Hospital, was a victim of so-called bed-blocking.
Despite physically recovering from a fall, Mrs Belcher, who has dementia, was told there was no homecare provision available.
In September, Department of Health figures showed Oxfordshire was the worst in England for bed-blocking.
In the same month, health staff and the county council held talks on the problem, describing it as the "single biggest health priority in Oxfordshire".
The figures showed 163 patients had been delayed in hospital because of insufficient resources to care for them in their own homes.
A senior GP looking at the problem said it was a struggle to recruit care workers.
On Thursday, Mrs Belcher's son David, from Kidlington, received a call from social services to say provision for his mother's homecare had now been made.
Mr Belcher said: "We were in floods of tears to be honest, I'm still thinking about it now. It was an absolutely wonderful moment.
"I don't think mum really took it on board initially, she thought it was a bit of a dream I think but one by one the nurses came around and congratulated her and wished her well and I think it really sunk in."
The family were caring for Mrs Belcher at her bungalow in Oxford before going into hospital after the fall.
When she recovered, Mr Belcher said she was adamant she wanted to return to her own home but because the care package was not in place the family was unable to adequately look after her.
Dr Stephen Richards, chairman of Acceptable Care for Everyone, accepted it was still "taking too long" to deal with individual patients.
"We have a recruitment issues," he said. "We cannot get the people to do the hands-on care, whether it's in the home or indeed the community hospitals."
Despite having the funding, he said, the agencies were currently looking to fill about 50 posts.