Coffin and tarantula taken to Oxfordshire tips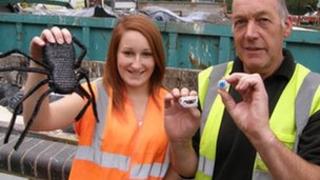 A coffin, a live tarantula in its cage, a glass eye, and set of false teeth were among items recently taken to rubbish tips across Oxfordshire.
The unusual waste was dealt with by workers at one of the county's seven household waste sites.
In another incident, staff were asked how an unwanted 6ft (1.8m) stuffed bear could be disposed of.
Oxfordshire Waste Partnership released the list of bizarre rubbish as it set up a new recycling website.
The site lists an A-Z of unwanted items and gives guidance on the best way of disposal.
The live tarantula was eventually rehomed after workers contacted an animal rescue centre.
'Sell on eBay'
"We are not quite sure why someone would think to bring an unwanted tarantula to a tip but that is what happened," a spokesman said.
"The coffin was another bizarre one. Someone had dumped it out of sight so we have no idea where it came from.
"It's interesting why someone had a coffin which they did not have a use for.
"When we do see people with odd items we always ask if anyone they know could use it, whether they could sell it on eBay, but eventually we have to put in landfill."
The seven household waste centres across the county currently have a recycling rate of almost 60%, the partnership says.
Councillor Lorraine Lindsay-Gale, chairman of the partnership, said: "People are keen to recycle as much as possible and we get asked what to do with all kinds of rubbish.
"As well as these unusual items... we now recycle more than ever such as electrical items, energy saving light bulbs and batteries, but this always leads to people wanting to do more."